As we head into the 2023 Football season, we take a look at the top 2023 recruits from across the state of Texas. Our last Top of the Class focused on the top ATH's, this week we end our Offensive Top of the Class by looking at the Offensive Linemen.
**Rankings reflected as of May 18th **
**Stats and Rating gathered from Max Preps**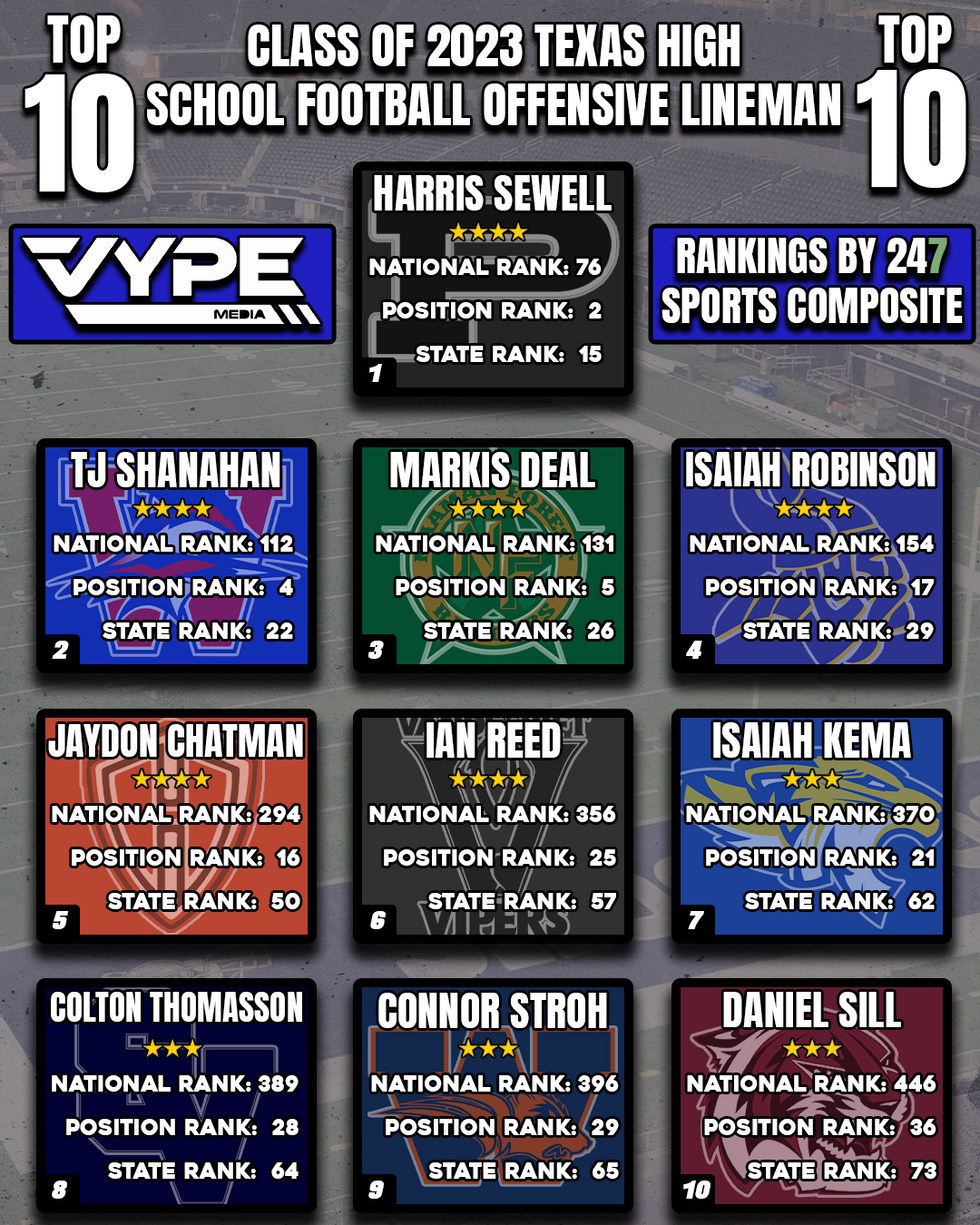 Harris Sewell- Odessa Permian: The top offensive linemen in the class of 2023 is Harris Sewell. The 4-Star Guard from Odessa Permian looks to continue the MOJO spirit during his senior campaign and is currently down to 5 schools heading into his senior year: Clemson, A&M, UT, OU and Alabama.
TJ Shanahan- Westlake: The Westlake Offensive linemen will try and help lead the Chaps to their 4th state title in a row. He will be protecting a new QB this season. But the #2 Linemen for the class of 2023 is one of the key cogs into another state title run.
Markis Deal- Naaman Forest: The 6'6" 290 Jr currently holds 41 offers and is a versatile athlete on both side of the ball for Naaman Forest. He will head into his senior season not only looking to narrow down his offers, but to commit. His play during that time will go a long way in him making that decision.
Isaiah Robinson- Lamar: The 4-Star offensive linemen out of Arlington Lamar has been busy this Spring. Not only has he found himself competing in the State Track meet, he has also been racking up offers left and right. Expect Robinson to have a monster senior season.
Jaydon Chatman- Harker Heights: Texas is hoping to land Chatman to it's impressive OL room after his senior season, as the Longhorns have been pursuing him since Early September of 2021. The 6'4" 286lb Chatman will head into his senior season looking to build upon his successful 2021/22 campaign.
Ian Reed- Vandegrift: Reed is one of the most talented athletes in the states capital, and help lead Vandegrift to the 3rd round of the playoffs in 2021. He recently narrowed his schools down to his top 10 ahead of the 2022/23 season.
Isaiah Kema- Frenship: The offensive guard out of the Lubbock area comes into his senior season with accolades a mile long including 6A 1st Team Texas All Sate and being part of the ESPN Top 300.
Colton Thomasson- Smithson Valley: The Texas A&M commit comes into his senior season as the lone San Antonio Linemen on this list. The 6'8" Linemen has been impressive not only in his Junior season but also during Spring camps. Expect another great season from Thomasson.
Connor Stroh- Wakeland: Stroh comes into his senior year having narrowed down his schools to 5: Arkansas, Texas, A&M, Florida and Auburn. The Wakeland linemen is a versatile linemen that can play either tackle or guard and is talented in both positions.
Daniel Sill- A&M Consolidated: Sill comes into his senior year having been committed to Texas Tech since December of 2021. With the decision of what college to go to out of the way, Sill will come into 2022/23 focused on the season and improving his craft.
True
Photo by Jennifer Fernandez
Cypress Christian softball has been on a meteoric ride the past few seasons under the direction of coach Matt Roberson.
The Warriors have advanced to the TAPPS State Semis this Friday on the campus of the University of Texas-Arlington.
VYPE caught up with coach before they headed on the buses for their final trip of the season.
KINGWOOD - As each new season dawns, teams look for that motto. That rallying cry that will carry them through the year. The phrase that will break out each huddle before they take the field.
For Kingwood Park softball in Kelsie McEachern's first year leading the program - "All Gas No Brakes".
"We were talking with Coach Christian Boehm, the boys soccer coach and he said and we liked it," McEachern said as she wore her Kingwood Park softball shirt donning the phrase on the back in white block lettering. "That's our mentality that we've been trying to teach our kids is to compete and fight.
"They've embraced it."
Junior Hannah Leierer added: "It just means 110 percent every time. Do it for each other and don't let up."
The ultra-youthful Panthers' softball squad, which has just two seniors, a few juniors and a plethora of sophomores and freshmen on the roster have been full throttle in 2022.
Kingwood Park went 12-2 to finish second in District 20-5A behind Lake Creek. Then in the playoffs, series wins over A&M Consolidated (6-2, 3-16, 5-3), Bastrop (11-0) and Brenham (4-3, 5-3) have vaulted the Panthers into the Region III-5A Semifinals for only the second time in program history.
"It's so special right now," Kingwood Park senior Taysia Constantino said. "Going this far with everybody it has been memorable. I think it's just the bonding. We've come together as a team. I just made friendships with each one of them. It's been going good. It's fun, honestly."
When McEachern arrived at Kingwood Park, the first set of expectations was to make the playoffs every year. But this was something that the players wanted to build on.
They didn't just want to get into the big dance - they wanted to be playing and dancing deep into May.
"They'd been to the first round, and I knew from the beginning that there was that fight in them," McEachern said. "It was to get past that. That's what they wanted to do and that's what we're doing this right now."
In 2022, the Panthers have been led by Abbe Papadimitriou at the plate as she has hit .415 with 42 RBIs, nine doubles and one home run. Constantino has driven in 38 runs with 11 doubles and three home runs, hitting .424 for the year. Courtney Petrosino has chipped in 28 RBIs, hitting .393, while Taylor Crawford has driven in 23, Peyton Cote has 18 RBIs and Katherine Geiser has 14.

In the circle, Leierer has led the pitching staff with a 2.71 ERA, 158 strikeouts to just 51 walks in 149 1/3 innings. Leierer has gone 18-8 in the circle in 2022. Behind her has been Erika Savage with a 2.85 ERA with 121 strikeouts to 25 walks in 76 innings with a 6-4 record.

These stats were going into the Brenham series and does not include those numbers.

But when did this team start feeling it?
In the third tournament of the season at the beginning of March, Kingwood Park played Huffman to close out the first day. They went to extra innings with the Falcons - which as a program has won two UIL Class 4A State Championships in 2015 and 2019 - and beat them 6-3 in nine innings.
That's when Leierer started feeling the positive mojo that this team could do something special in 2022 and they've built on it.
"As a team we've gotten along so well," she said. "We work really hard together, we play for each other, and I think that's what has driven us to get this far in playoffs. We're doing it for our seniors Taysia [Constantino] and Olivia Brown but we're also doing it for each other."
Kingwood Park has had its share of extra-inning dramatics this season. The win against Huffman, then in district play an 8-5 victory over New Caney in 11 innings. In the playoffs, in a game-three winner-take-all against A&M Consolidated, the Panthers won 5-3 in nine innings.
What these types of games have shown McEachern through the spring is her young group of Panthers have some feistiness to their game.
"You don't have to teach them how to fight, they already have that in them," she said. "That's the best part about this group."
Now, Kingwood Park faces Santa Fe on Thursday in a winner-take-all one-game series in Crosby at 7:30 p.m. One game to get the Panthers to the Regional Championship for the first time in program history.
All Gas ... No Brakes, right?
"We're going to go until somebody stops us," McEachern said. "That's the mentality we've got."
No matter what happens on Thursday, the fact that the Panthers have advanced to Round 4 and will have played seven playoff games is real-game experience that you can't imitate in practice on a Tuesday afternoon.
This run will pay dividends to Kingwood Park softball for years to come.
"For our young ones out here, it means everything," McEachern said. "To get all of this playoff experience this is going to help us in the future. Then those that are coming up and into our program in the next few years, this is the standard. We want to continue to go deep into the playoffs.
"Hopefully this is something that sticks around and becomes an expectation."
"
True
Join the #VYPETEAM
Get up to date news from all over the country!