AS WE EMERGE FROM THE FOG OF A PANDEMIC, NOW IT 'S TIME TO CLEAR OUR HEADS.
Maybe you already have, but here's some advice from an experienced dad with a unique glimpse into a teenage world. So, what did we learn? How are we going to grow, kiddos?
Teens and parents alike, listen up. Rich or financially-challenged? Majority or minority? This message cuts across all cultures.
It's time to hit the reset. Reboot. Flip the switch, whatever. Quick scrolling through TikTok for one minute because I know that's all you are gonna give me.
You ready?
Here's the lesson.
Life is easy.
Boom, I said it. There it is.
Follow me on this… WE make our lives hard. We listen to the outside noise. We hold grudges. We think we are going to change people. We spend our time running in stupid circles chasing clout. We are ultra-sensitive.
What I'm going to say next sounds like mumbo-jumbo but life is about YOUR ENERGY. You have a positive outlook or you don't. Nothing is stopping you from having everything you want. It's all about your PERSPECTIVE and is fluid as to where you are in your own life.
So, you ready?
You have to bring LIFE to YOUR LIFE. It's that simple.
If you are bored… you are boring.
If you are dramatic… you love drama.
If you are friendly, you are a friend.
It's that simple.
The following are the words you need to build your LIFE BOARD (whatever that means) with… Effort, Listen, Rest, Find Your Passion, Thrive in Chaos, Work, Forgive, Fun, Compromise, Faith.
Hashtag those on your bathroom mirror, your journal, your list of goals, your SnapChat story.
Then, check this out.
When you live by those words, you become a real Influencer. Your light will shine to those around you and your life becomes increasingly…
Easy.
We are going to have a great year in 2021-22. Why? Because we've changed our perspective in a matter of a minute.
Photo by Bradley Collier
Talk to Yu Ching "Tiger" Cheung for a few minutes and you get a vibe that he's just that guy.

The Lutheran South Academy tennis star came to the United States in the eighth grade, moving from Hong Kong where "tennis is huge".
"When I first got here, I didn't know anyone, that was tough," Cheung said. "I was a little scared to be honest."
Once he settled onto the court again at LSA, Tiger fit in just fine and his confidence grew. According to tennisrecruiting.net, Tiger is a 3-star prospect, and has signed to play college tennis at Loyola. "I'm just a confident person," Cheung said. "My coach always told me to be confident at everything, especially on the court."
Being confident on the court this spring helped guide him to a TAPPS 5A Men's Doubles State Championship with partner Chase Turley as they defeated Cade Webb and Kyle Pipkin of Fort Worth Christian for the crown.
"Winning state is a big thing," Cheung said. "I think people know me as a pretty good tennis player."
Cheung, whose favorite player is Rafael Nadal, has big dreams for his future after college, which include owning his own tennis academy.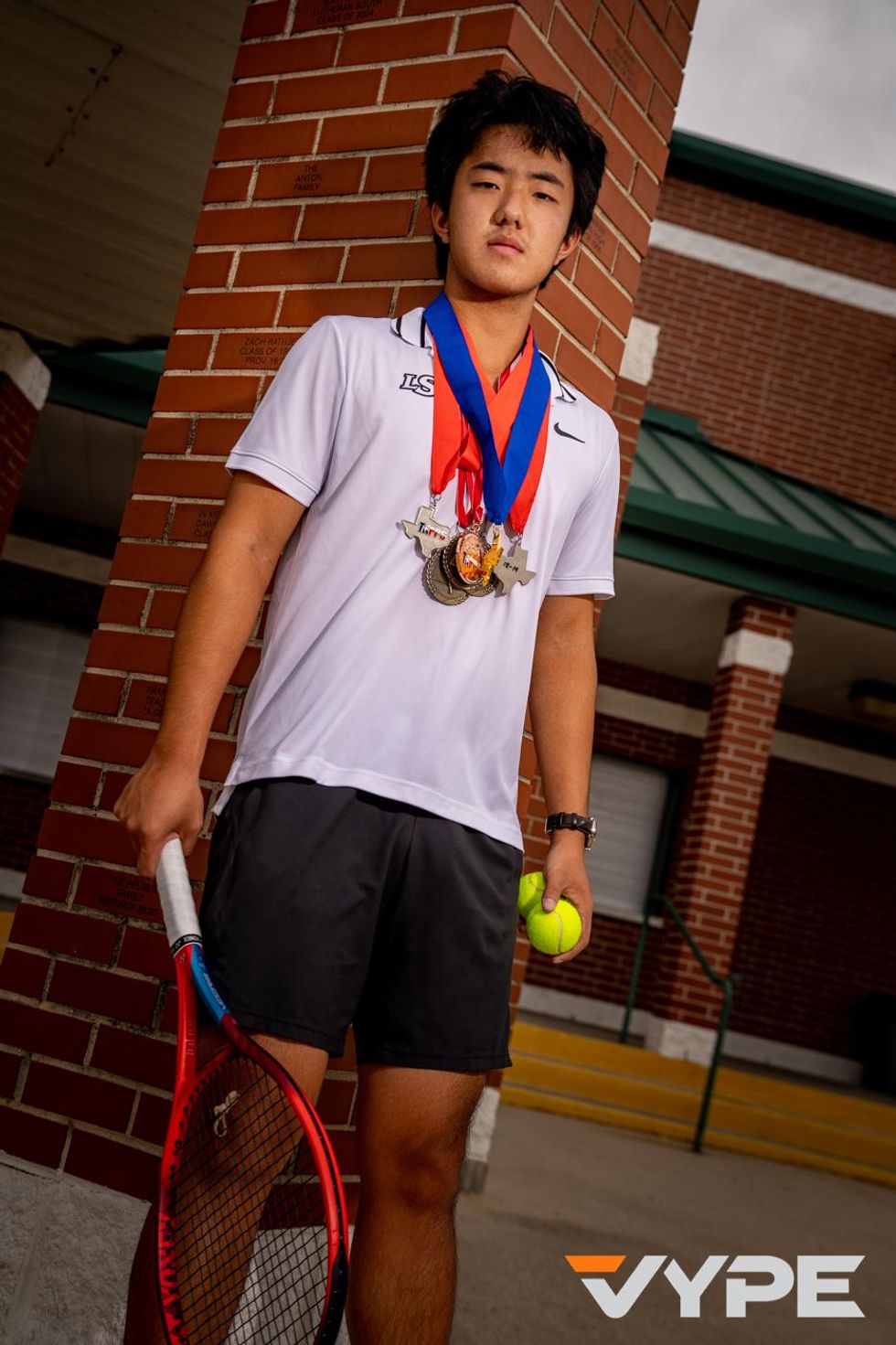 CLICK HERE to view the Lutheran South Academy Magazine

CLICK HERE to purchase Lutheran South Academy Photos
Photo by Bradley Collier
In life sometimes, as fate would have it, a chance meeting can change your life's trajectory forever for the good.

Ayana Smith remembers that moment. In the fifth grade, Smith and her mother were going to Cold Stone Creamery to get some ice cream on Valentine's Day. There, Smith met who would end up being her future club track & field coach.
"It changed my life because it showed me what I can really do," Smith said. "It was really surprising. I didn't think I had that in me."
Six years later, Smith is now a track star at Lutheran South Academy and just brought home gold in the 4X100-meter relay, 100-meter dash and long jump at the TAPPS 5A State Championships in May.
Smith has been running track since the sixth grade and arrived at LSA for her freshman year.
"I liked how it was small," Smith said. "My god sister went here before I got here and she told me some good things about it. I just felt like I would do really well here." The junior has big aspirations beyond winning gold in high school.
Smith dreams of running track collegiately, potentially at Southern University, Prairie View A&M or LSU, and then one day reaching the Olympics like her icon Allyson Felix.
"I love her style and how long she's been running and how strong she is as a person," Smith said. "I really love that about her."
Outside of track, Smith is involved in multiple organizations including Top Teens of America, serving as her chapter's president, and the World Youth Foundation. But everything she does in or out of school and on the oval is for her grandpa.
"I do everything for him even though he's not here with me anymore," Smith said. "If he was here right now, he'd be really proud of me."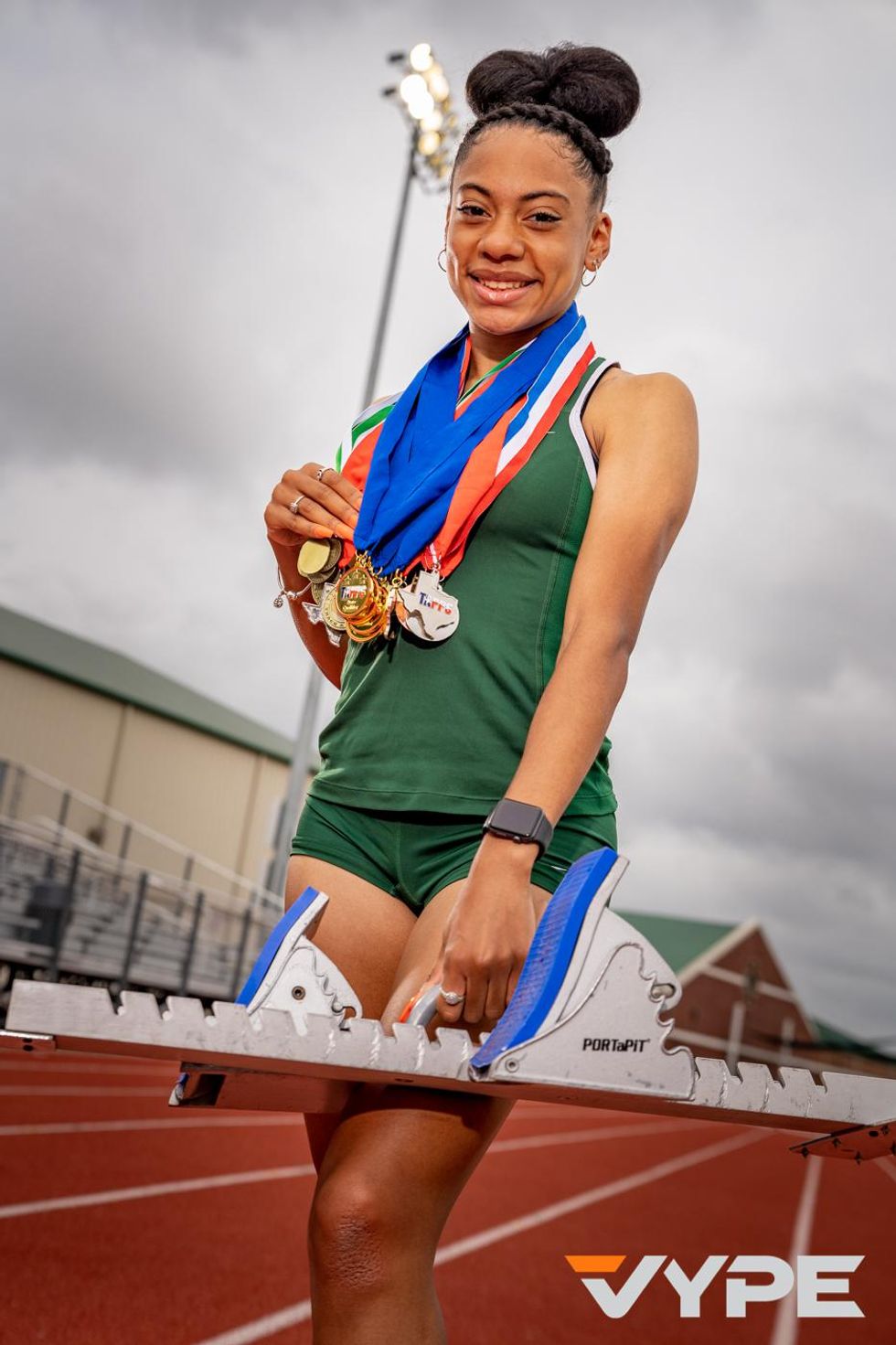 CLICK HERE to view the Lutheran South Academy Magazine

CLICK HERE to purchase Lutheran South Academy Photos
Join the #VYPETEAM
Get up to date news from all over the country!