Coming out of high school, Tom Bradley didn't think one day he would be a head athletic trainer. At the time he had heard of the profession.

It wasn't until his college playing career at Central Methodist University, where he played football and ran track, Bradley suffered some injuries and found himself in the training room a few times, which ultimately changed his life's path.
"After college my path was going to be a coach but I got interested in athletic training," Bradley said.
Bradley went on to graduate school at Midwestern State University where he got his masters in kinesiology and got licensed to be an athletic trainer in Texas.
Since then, over a 25-year career, Bradley has worked at the college level, public school level, has done work with the Houston ballet, the rodeo and other events. Five years ago, he was hired on at Bay Area Christian School as its first full time head athletic trainer.
Bradley started the student athletic trainer program, which now boasts an average of 20 to 25 kids in it per year. In spring football, they get their CPR and first aid training and also get trained in wound care, icing athletes down and taping to prepare them for the upcoming year.
The students during the day also get other lessons sprinkled in.
"I have eight different class periods during the day," Bradley said. "Student trainers have the option to plug in whatever works for their schedule. So, I have them spaced out during the day. It just gives us a minimal instruction every day from learning the anatomy of the hand or how to do ACL rehab. Some classes they have more hands on than others."
Not only do the students get to work with and learn from an athletic trainer in Bradley who has more than two decades of experience in the business but also get to do it in a top-notch facility on campus.
"It's a great facility," Bradley said. "There is plenty of room to do all rehab in house from ACLs to shoulder rehab. We have the preventative maintenance area to the area with the whirlpools. We are well equipped to take care of our athletes here.
CLICK HERE for the All VYPE Public Girls Soccer Team
CLICK HERE for the All VYPE Private Girls Soccer Team
..
PUBLIC PLAYER OF THE YEAR FINALISTS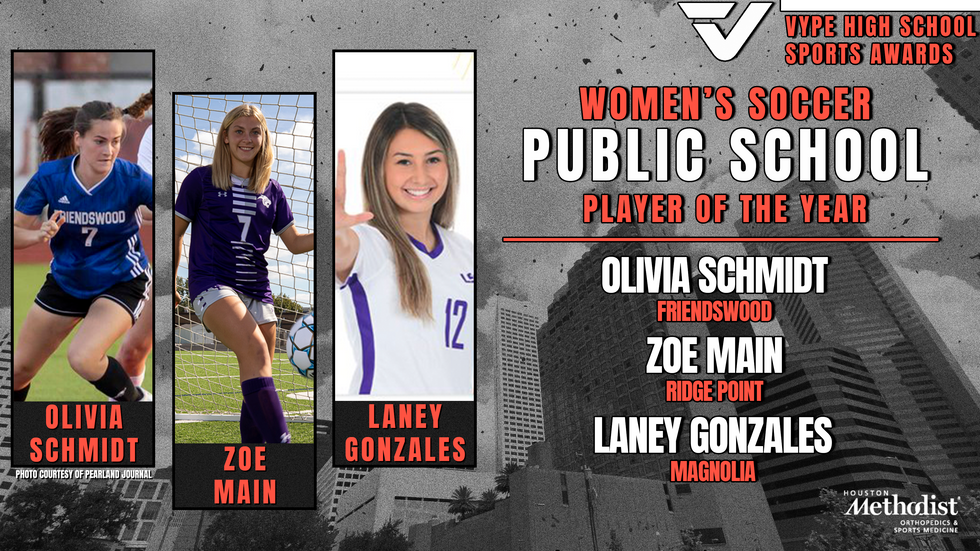 PRIVATE PLAYER OF THE YEAR FINALISTS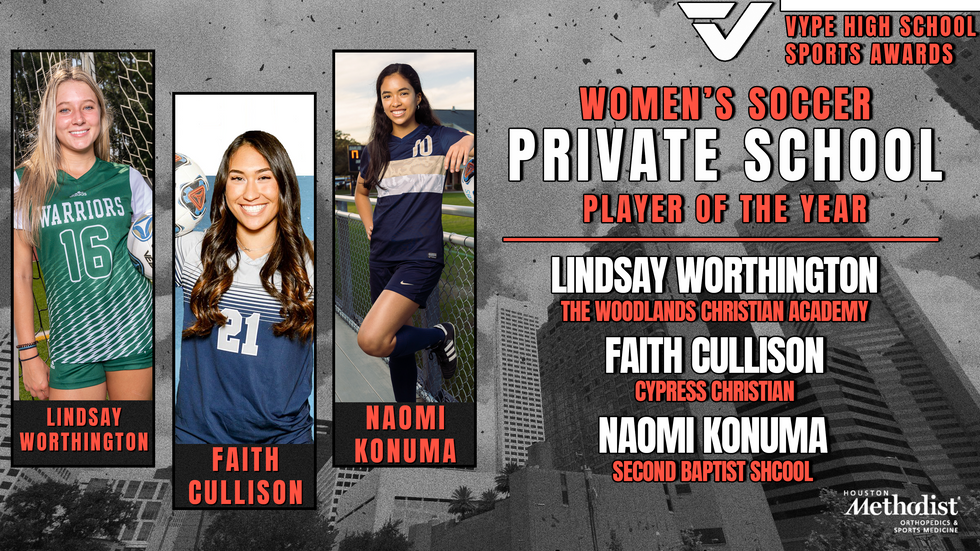 Watch the video below to find out who won the Public School Women's Basketball VYPE Awards presented by Houston Methodist Orthopedic & Sports Medicine
Houston Methodist Orthopedics & Sports Medicine is Houston's leading provider of orthopedic services, from sports medicine to joint replacement. Houston Methodist offers comprehensive diagnostic, treatment and rehabilitative services with a high standard of excellence for elite athletes, active adults and student athletes. Houston Methodist serves as the official health care provider for the Houston Texans, Houston Astros, Rice Athletics, Houston Livestock Show and Rodeo™, Houston Ballet, Houston Symphony and Houston Grand Opera.
Dennis Silva II | VYPE Media
Texas A&M baseball coaches went to Crosby last Thursday to take a look at Fulshear junior left-hander Austin Vargas.

Vargas, initially a University of Houston commit, certainly fits the part of premier prospect physically. He stands 6-foot-7, 200 pounds. He is long and lean. Self-assured. But after he allowed no runs on two hits while striking out nine and walking seven in five innings to lead Fulshear to an area playoff Game 2 win over Crosby, Vargas showed the Aggies he had the raw talent as well.
A&M invited Vargas for a visit and officially offered him. It didn't take long for Vargas to reciprocate the interest. Two days after that initial A&M evaluation, Vargas committed to the Aggies.
"After many coaching changes and many talks with my family, I decided to decommit (from UH)," Vargas said. "Texas A&M presented me with the opportunity to play against the best teams in the nation and use the best technology to stay healthy and perform at my best. I love the culture Coach (Jim) Schloss (Schlossnagle) is building and his history with going to Omaha (site of the College World Series)."
Committed! Gig\u2019Em @CoachSchloss @ncain39 @NateYeskie @NicoMoran @FiveStarPB @coachgetschmannpic.twitter.com/N8kJGx9lnC

— Austin Vargas (@Austin Vargas) 1652560108
Vargas had a breakthrough 2022 campaign. He finished 7-2 with a 1.99 ERA over 52 innings and a 3.1 strikeout-to-walk ratio (113 to 37) and helped lead the 20-11-1 Chargers to the area playoffs. He threw a perfect game against Terry in late April, striking out 17 Rangers on only 83 pitches in six innings.
Opponents barely hit better than .100 against Vargas, who tops out at 92 miles per hour on his fastball and sits around 89-91 mph. He has a devastating slider to accompany his fastball, and his curveball hovers around 78 mph.
"This year, I was most pleased to perform under pressure," said Vargas, who went 2-0 in the postseason with 17 strikeouts and did not surrender a run on two hits in eight innings. "I've been in a lot of situations this year that aren't easy to deal with and found a way to get out of it with no damage. The main thing I want to improve in my game is the ability to throw my off-speed for strikes whenever I want to."
Round 1 3 IP 0 H 8 SO 0 R 3 BB. Sat 88-92!! @UHCougarBB @toddwhitting @CougarKiv23 @NicoMoran @FiveStarPB @TxHS_Baseball @coachgetschmannpic.twitter.com/4V1PDzEumM

— Austin Vargas (@Austin Vargas) 1651900076
Vargas will next play for his summer team and attend showcases. He plans to spend a lot of time at Performance Edge, where he trains, to get bigger and stronger.
"To dominate my senior year," he said.
Vargas has big goals.
"I'm focused on getting Fulshear a state championship," he said, "and getting to Texas A&M to help win a national championship."
Join the #VYPETEAM
Get up to date news from all over the country!