Bradley C. Collier (VYPE)
After earning all-state honorable mention and first- team, all-district honors as a sophomore, Boeker is ready for a breakout junior season that will put him on the recruiting map. His mindset is to also lead TWCA deep into the postseason.
VYPE got the chance to catch up with Boeker before entering district play.
...
VYPE: What drew you to TWCA as a move-in over a year ago?
BOEKER: "I went to Cypress Woods and checked out TWCA. I was like 'wow' when I came. The campus is beautiful, the people are really nice, the teachers are great and the coaches really care about you. It kind of feels like the size of a public middle school, where everyone knows everyone."
...
VYPE: What made you get into football in the first place, and what's compelled you to keep going with it?
BOEKER: "When I was about seven, I played flag football with my friends because they started a team. I was always pretty good, so my parents told me I should play tackle football. I was going to quit at one point, because I stopped being as good. Then I started putting in the work and really could see my improvement. Now, I'm here."
...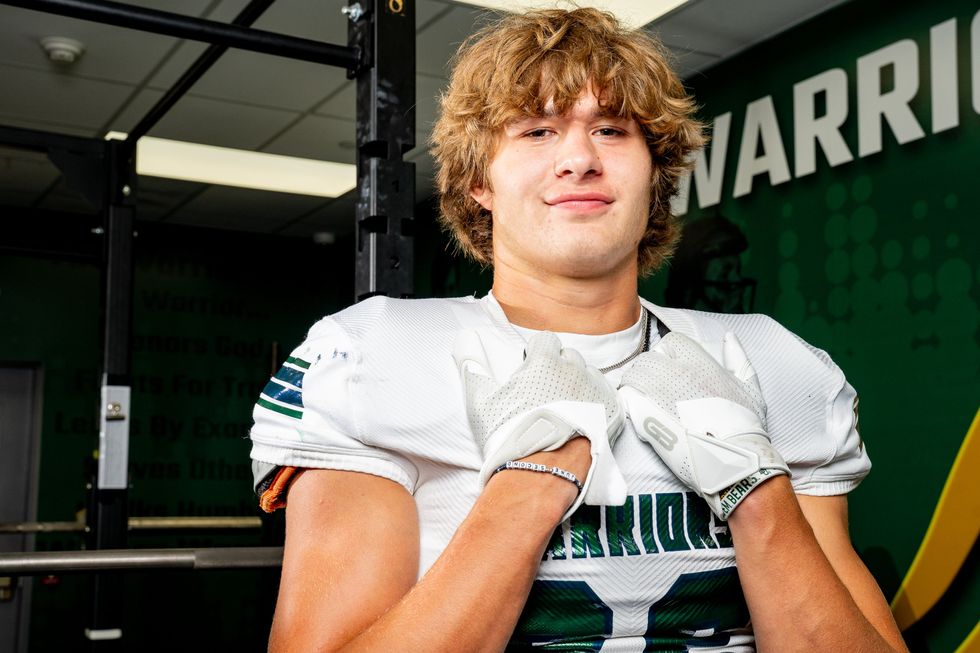 Bradley C. Collier (VYPE)
VYPE: Who do you like to watch to better your game?
BOEKER: "I watch a lot of high school linebackers around Texas. I watch Justin Williams of Oak Ridge to see how he approaches the position. In college, I love to watch Clemson's Barrett Carter and the Colorado Buffs."
...
VYPE: What do you want to study when you get to college? What career can you see yourself potentially pursuing one day?
BOEKER: "Every kid's dream is the NFL, so I'm going to continue to pursue that as long as I can. I can definitely see myself doing something in the engineering field, because I have a really good mind for math. If not that, I might go into law. I like to debate with people."
...
VYPE: I'm sure football and school take up a lot of your time. So, what do you do to take the edge off?
BOEKER: "I mostly just hang out with my friends. They always find a way to keep me cool – keep me happy and having fun."
The Trimble Tech Bulldogs and the Colleyville Heritage Panthers are set to face-off in their first district match of the season. The Bulldogs travel to Colleyville on Friday night to take on the Panthers in an intense matchup. VYPE DFW takes a look at these two teams so far this season:
Trimble Tech Bulldogs (1-2)
Trimble Tech has had a little bit of a rough start to their 2023-24 campaign. Losing their first game in a forfeit against Seagoville, the team went on to drop week two's matchup against Wichita Falls City View (45-0). Last week, the team faced Dallas Shelton and posted a 21-0 shut-out victory. Looking to add more victories to their record as they enter district play this week, Trimble Tech will do whatever it takes for a strong district-opening outing.
Led by the likes of McKylon Davis, Decoryne Miles, Jesse Hill, Nick Martinez, Adam Nunez, Trenton Honeycutt, Jadarrius Strhan, and more, this squad is ready to put the pedal to the metal and kick it into high gear through district play.
Colleyville Heritage Panthers (2-1)
The Panthers are working hard this season. A season-opening victory over Irving Nimitz (47-13) followed by a hard-fought week two loss against Texas High (41-38) gave the Panthers the fire they needed to enter week three ready to take on Ennis. Week three saw bad weather canceling games across the metroplex. With a score of 10-7 in Colleyville Heritage's favor, the game ended up being called. Heading into a BYE week, the Panthers were able to focus on their preparations for district.
Led by Luke Ullrich who has averaged over 107 rushing yards per game, Ryan Keleher, Colin Bennett, Kai Pruitt, Hayden Golden, Bodey Weaver, and others, this team has been determined all season. Fans can expect their full force effort on Friday night.
What To Expect
Last season, Colleyville Heritage defeated Trimble Tech in a 57-0 trouncing. The Panthers will look to put up the same kind of fight as they enter Friday's matchup. The team can be expected to come out swinging looking to set the tone early. Trimble Tech has been working hard to gain momentum over the past few seasons. This team can be expected to come out ready to go against Colleyville Heritage.
Kick-off is slated for 7 p.m. at Colleyville Heritage.
Join the #VYPETEAM
Get up to date news from all over the country!