UIL State Semifinals are about to kick off. Teams all over the state that have made it this far are preparing to put up the fight of their lives to get to the state title game. With just one victory standing between them and another appearance at the biggest stage in Texas high school football, Brock fully intends on leaving it all on the field Thursday as they take on Malakoff. What can fans expect out of this 3A semifinal matchup?
Brock Eagles (10-4, 6-0)
This season, the Eagles have been on a roll. After opening the season with four straight losses during their preseason schedule, they knew they had to turn the tables and put forth a better effort on the field. With a strong mentality and dedication to fine tuning their attack, the Eagles went on a run through district play defeating opponent after opponent before finishing at the top of their district standings with an unblemished district record. Once in the playoffs, Brock continued to do what they do and steamroll their opponents ending the seasons of Iowa Park (48-0), Muleshoe (57-20), Bushland (51-27), and Whitesboro (30-19).
Led by the likes of Jhett Jones, Reid Watkins, Carson Finney, Brett Tutter, Tyler Moody, and more, Brock's offense has been able to step up and make big plays happen throughout their games. The defense led by Watkins, Zachary Brewster, Cam Harris, and more has been a wall that has proven to be difficult for opponents to get through. They enter the state semifinals on a 10 game win-streak while outscoring their opponents this season by a combined 266 points. The Eagles will look to continue their regular excellence against Malakoff.
Malakoff Tigers (13-1, 6-0)
Having lost only one game this season- an early 21-17 loss against Grandview in preseason play- the Tigers have been a force to be reckoned with in their own schedule. Defeating the likes of West Rusk, Salado, Glaewater, Eustace, Groesbeck, and more, the team was able to finish at the top of their district undefeated in district play. Outscoring their opponents by a combined 485 points this season. Through playoffs, the Tigers have defeated Dallas Madison (62-0), Winnsboro (55-10), West (35-14), and Grandview (29-17).
Jason Tennyson, Corey Phillips, Damien Jackson, Austin Massingill, Mike Jones, and more have been impactful on the Tigers offense. With the ability to set the tone and continue to raise the bar, Malakoff has laid out quite the resume headed into the state semifinals. Chauncey Hogg, Jakerry Smallwood, Asa Mondragon, and more lead the defense in creating a force that has been nearly impossible to get past all season. Malakoff will look to put a stop to Brock on Thursday.
What To Expect:
Brock has the determination and skill that it takes to really focus on the game. They're a disciplined team that not only knows what it takes to get to the state title game, but to win it. With only one team standing in their way, the Eagles are set to play a game that fans will be proud of. Malakoff, however, isn't going to be a team that just lays down and let's Brock run all over them. They are going to put up a fight and be one of the toughest teams Brock has had to face all season. Fans can expect this game to keep them on the edge of their seats.
Kick-off is set for 7 p.m. on Thursday, December 8 at the Ford Center at The Star in Frisco.
JORDAN BOOTH HAS BEEN A CONSTANT WITHIN THE WOODLANDS CHRISTIAN ACADEMY VOLLEYBALL LOCKER ROOM SINCE HER FRESHMAN YEAR. BEFORE THAT TOO, WHEN SHE HUNG AROUND THE VARSITY SQUAD WHEN HER OLDER SISTER, RYANN, PLAYED.
"Volleyball has been a huge part of my life as long as I can remember," she said. "These are my best friends, my family."
"It started to hit me in the summer. This is it, the last season playing the sport I love with the people I love. It's sad to think about but I have been just cherishing every practice, bus ride and game all season."
The four-year starter looks back on her career with fond memories and a piece of advice for her younger self.
"I would have told myself as a freshman to have fun," she laughed. "Don't put so much pressure on yourself. I definitely did. I wanted to be perfect, but as a freshman you aren't going to be perfect. You are going make a bunch of mistakes."
As she got her legs under her, the all-district accolades began to pile up. She developed into a leader and will leave a lasting legacy at TWCA.
"TWCA has been a great experience," she said. "It's such a small, tight-knit community that you literally know everyone in your grade. You become friends with everyone. The teachers are great and really take the extra-effort with you. It's a family."
As her career wraps up, she looks to the future with pinpoint focus.
"I'd like to go to Texas A&M or Baylor," she said. "I want to become a nutritionist and help people with their diets and overall health."
That field of study hits close to home for Booth.
At 12-years-old, Booth stopped eating and dropped weight that she couldn't afford to. Her family took her to several specialists, and she was eventually diagnosed with Crohn's disease – which causes the swelling of tissue in the digestive tract.
"I remember being at a volleyball tournament in junior high and couldn't move because of incredible stomach pain," she said. "I was trapped in a sitting position and my dad had to pick me up in that position and carry me to the hotel. I couldn't move.
"I never really wanted to talk about it with my friends. It was kind of weird and I didn't want people to make fun of me, honestly. I finally just let me guard down and just accepted it. I still have flare ups every now and then, but it's under control and I can talk about it now."
The senior hasn't let Crohn's disease define her over the years, however, her personality, perseverance and play have.
"Our volleyball team has really leaned in to learning how to put other people before yourself," Booth said. "It's about the good of the group, before the good of yourself. It's really a powerful life-lesson that I will take with me when I leave and always try and practice."
QUICK TAKES
If a movie was made about your life, what actress would you want to play you? Sadie Sink
Who has been your biggest influence? My mom. She's the most selfless person I know.
If you didn't play volleyball, what sport would you have played? I'm not good at it but gymnastics. It looks really fun.
What do you do outside of volleyball? I like to read. I'm a Hunger Games type of girl.
What music does your team play before a game? We have a big speaker and just play and dance to party music.
Photo from Fields' Twitter Handle: @ElijahF2023
North Shore is on the cusp of returning to the UIL 6A State Championship for the fourth time in the last six years. The team that stands in their path is another state power, Austin Westlake, who they are set to face off against in the State Semifinals at Rice Stadium this Saturday.
The Mustangs' defense has been relentless throughout the postseason. Most recently, they held the explosive Atascocita to seven points, last Friday, which allowed their offense to seal the victory.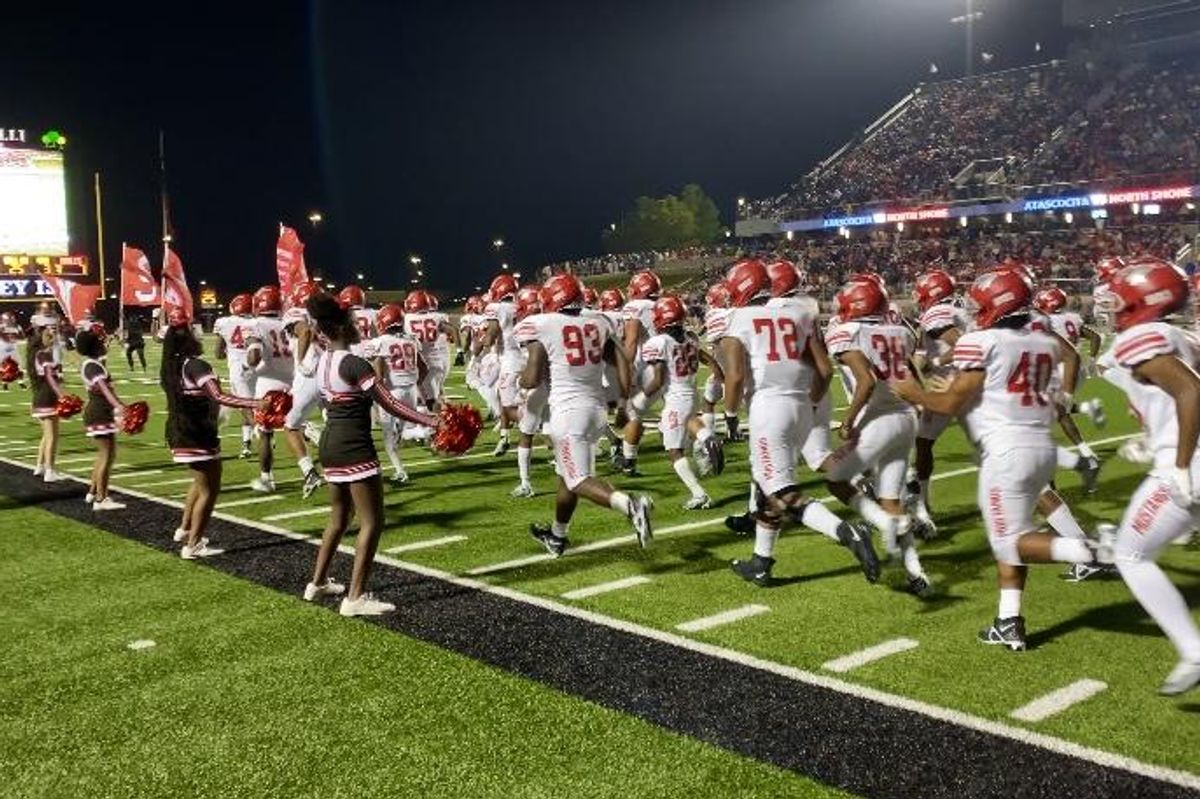 The Mustangs run onto Randall Reed Stadium prior to their Regional Championship victory, against AtascocitaMatthew Ogle (Vype)
One of the heroes on this stacked North Shore roster is DE Elijah "The Hulk" Fields, who has established himself as a force to be reckoned with.
"I got that nickname ["The Hulk"] when I was younger," said Fields. "I've been dominating since Little League and that title has just kind of stuck with me."
Fields transferred from Spring High to North Shore last year. His performance has only escalated since then, earning first-team, all-district honors, which he attributed to the culture of the football program.
"[Compared to Spring] the culture here [North Shore] has been a nice change," Fields said. "Everyone wants it more, and there's more leadership. I've seen everybody has just bought in and we've become a brotherhood. At North Shore, everything is set and it's all on the players."
The majority of current high school football players began their playing careers during their youth when they were inspired to compete through their adolescent years.
Fields is no exception, as his passion for the game was sparked by his uncle -- Ramonce Taylor -- who played running back for the University of Texas from 2004 to 2006 and later played in the Canadian Football League and U.S. Indoor Football League.
"My uncle [inspired me to play football]," said Fields. "He played for Texas, so he knew what it took to play at the next level. He [Taylor] instilled that dedication and competitiveness in me. I need to have that 'dawg' in me always."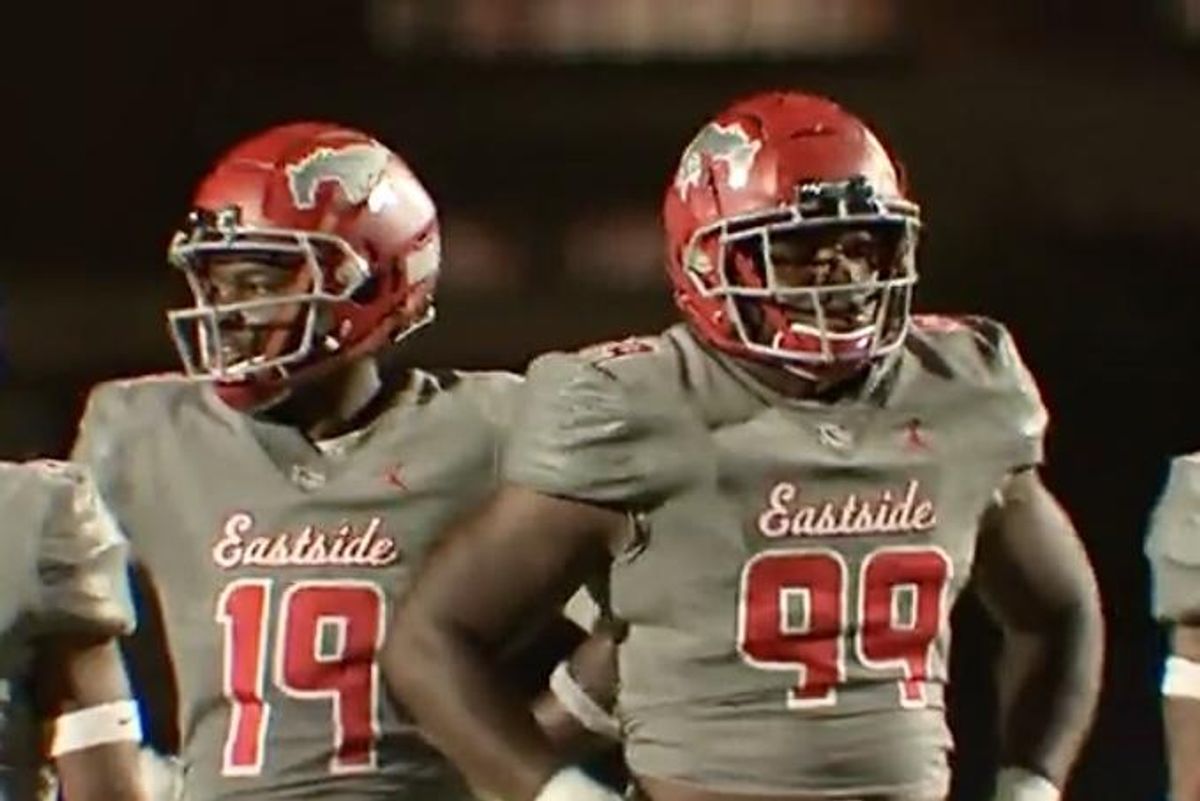 With all the accolades "The Hulk" has racked up, he's obtained offers from several universities to continue playing ball at the collegiate level, including Mary-Hardin Baylor, Midwestern State, Northern Iowa and more.
For now, Fields and the Mustangs have one goal in mind -- add another State Title to the North Shore legacy.
"We just gotta keep going like we have been doing each week," Fields said. "Day in and day out, we're focused on the next opponent in front of us. Getting a ring would be crazy, but it's just this game that we are worried about since we will be facing a team that wants it just as badly as we do."
Join the #VYPETEAM
Get up to date news from all over the country!