The 2019 Texas high school football season has completed eight weeks of action. Check out the latest VYPE Austin UIL 5A rankings to see where top area teams landed after Cedar Park's 20-16 win against Hutto, Pflugerville Weiss' 17-16 win against Cedar Creek and Leander Glenn's 35-28 win against Georgetown East View!
No. 1 Cedar Park: 7-1 (Previous: #2)
No. 2 Dripping Springs: 6-1 (Previous: #3)

No. 3 Hutto: 5-1 (Previous: #1)
No. 4 Manor: 5-2 (Previous: #5)
No. 5 Pflugerville Weiss: 6-1 (Previous: #6)
No. 6 Austin LBJ Early College: 5-2 (Previous: #7)
No. 7 Georgetown East View: 5-2 (Previous: #4)
No. 8 Georgetown: 4-3 (Previous: #10)
No. 9 Leander Glenn: 4-3 (Previous: NR)
No. 10 Cedar Creek: 4-3 (Previous: #9)
Fell out: Lockhart: 4-3 (Previous: #8)
Others to watch:
Bastrop (3-4), Austin Northeast Early College (2-5), Austin McCallum (2-5), Elgin (2-5) and Austin Crockett Early College (2-5)
For more sports coverage, follow Thomas (@Texan8thGen) and VYPE (@VYPEATX) on Twitter.
Looking to get more involved? Check out ShopVYPE for fresh gear that supports local schools and the VYPE U Ambassador Program. To sign up for the VYPE U Program, apply at VYPEU.com.
Stephen Campbell Jr. is a hype-man.
The 2019 TAPPS Class 5A state champion and the 24th-ranked AJGA Rolex Junior in the country is magnetic. Whether pumping himself up on the golf course or as a Student Section Leader at a Fort Bend Christian Academy football game, Campbell has some juice.
The Oklahoma-commit regained his passion for golf entering high school and has left opponents in his wake on the high school and the elite-tournament circuits.
"Ever since I was 18-months-old, I had a club in my hand," he said. "I was sort of a child prodigy in the beginning, but when I started coasting in middle school I got a little big behind. My parents sat me down and just explained they weren't going to shell out money if I didn't see a future in golf."
That was in the eighth-grade.
"I found that passion again and since then I've been hard at work," he said.
There has been a price. The high school senior has had to sacrifice being a teenager at the hands of golf at times.
"People think I'm boring sometimes," he laughs. "It's golf, school and family-time. Yes, I've had to make some sacrifices. I've missed times with my friends with practice or traveling to tournaments.
"I don't see it as a sacrifice, but a blessing. I'm thinking long-term. I'm motivated to get better. To be the best player I can."
Much like his favorites – Tigers Woods and Phil Mickelson.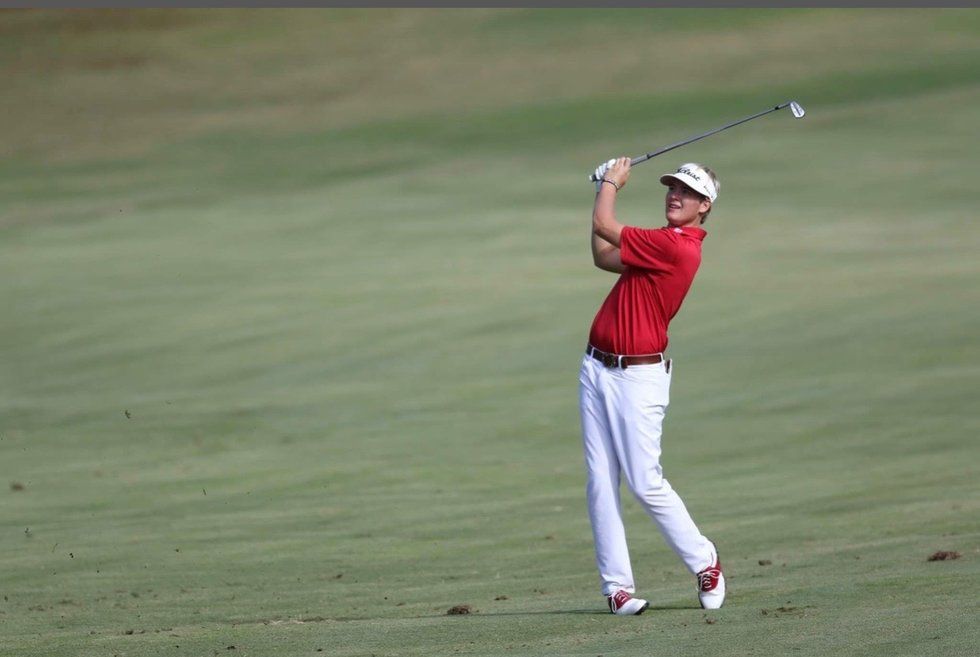 "I grew up on Tiger Woods, and Phil who is a fellow lefty," he said. "I also like Brooks Koepka and his approach. He's a transcendent athlete physically and how he approaches the game. He simplifies it.
"I also like the young guns. I have so much respect for how insanely tough it is to make and stay on the professional tour," he said. "Those guys are so tough."
Campbell will attend Oklahoma next fall and play for coach Ryan Hybl. Forgot to mention, his parents are Sooners and his mom played college basketball.
"Coach is an energy-guy like me," he laughs. "Our personalities match. He has moxie and swag and I can see that playing for him will make me a better player and person.
"My parents didn't want to influence my decision at all, so I prayed about it a lot," he said. "Oklahoma is a special place and Christ put it in my heart. I love the guys on the team, and we have a great class coming in."
When in town, he's hyping his buddies on their respective fields of play, but mostly Campbell is on the steady grind his senior season on the range or on the road.
His favorites courses to play?
"Liberty National Club in New York City is amazing," he said. "Imagine playing golf and seeing the New York skyline on every hole. I also like Rich Harvest Farms (outside of Chicago) – it's like the movie Hoosiers, but on a golf course."
When he gets some time to chill, he's with friends or with his dad hunting of fishing.
"My dad taught me the game of golf and my mom gave me the mental side of athletics," he said. "They have been a huge influence in my life."
The energy Campbell has for life makes him a can't-miss-kid – where it's on the golf course, in the stands or a future in business.
He's got the juice.
Well, if you like scoring, wild stats and crazy games Week 8 was just for you.
The biggest game ended up being a wild 73-70 victory for Tomball Memorial over Cy Lakes in what turned into a Saturday afternoon slugfest. Not one time this season have we selected two Gridiron Players of the Week from the same game.
But this was a special occasion.
Colton Marwill – Tomball Memorial
Start with the victor in the mega-showdown. Marwill finished 23 of 33 for 414 yards and seven touchdowns; 11 carries for 70 yards and a touchdown. Marwill helped power the Wildcats to the win in the end.
Sofian Massoud – Cypress Lakes
There are not many times you contribute to 10 touchdowns being scored and you are on the wrong end of the scoreboard. Cy Lakes quarterback Sofian Massoud finished 26 of 38 for 527 yards and six touchdowns and rushed for another 125 yards and four scores.
Eli Smith – Second Baptist
The Second Baptist Eagles are rolling. Sitting at 6-0 entering this week, the Eagles took care of business against Westbury Christian, which Smith rushed for 123 yards and a touchdown on seven carries. Smith for the season now sits at 563 yards and eight scores. This is the second-most yards he's rushed for this season with his season high being 154 against Concordia Lutheran.
Jaydon Blue – Klein Cain
You're my boy Blue! The sophomore running back has quickly emerged as a star out of the backfield. Against Klein Forest, Blue rushed 12 times for 232 yards (19.3 yards per carry) and two scores. That is the fourth time that Blue has busted loose for over 200 yards. Blue is a workhorse for the Hurricanes and will continue to be a problem for opposing defensive coordinators.
Caleb Chappelle – The Woodlands Christian Academy
In The Woodlands Chrsitian Academy's 55-20 victory over Frassati Catholic, the top target for senior quarterback Aaron Monsivaiz was receiver Caleb Chappelle. The junior finished with a team-leading seven receptions for 159 yards – a new career-high – and a touchdown. Chappelle has 28 receptions for 520 yards and eight scores this season.
Join the #VYPETEAM
Get up to date news from all over the country!