Top of the Class: Top Defensive Linemen of the '23 Class
Jul 14, 2022
In our current series we continue to take a look at the top football recruits of the 2023 class in the state of Texas. This week we move upfront to look at the top Defensive Linemen of the 2023 class
**Rankings reflected as of July 6th **
**Positions from 247Composite**
**Stats gathered from Max Preps**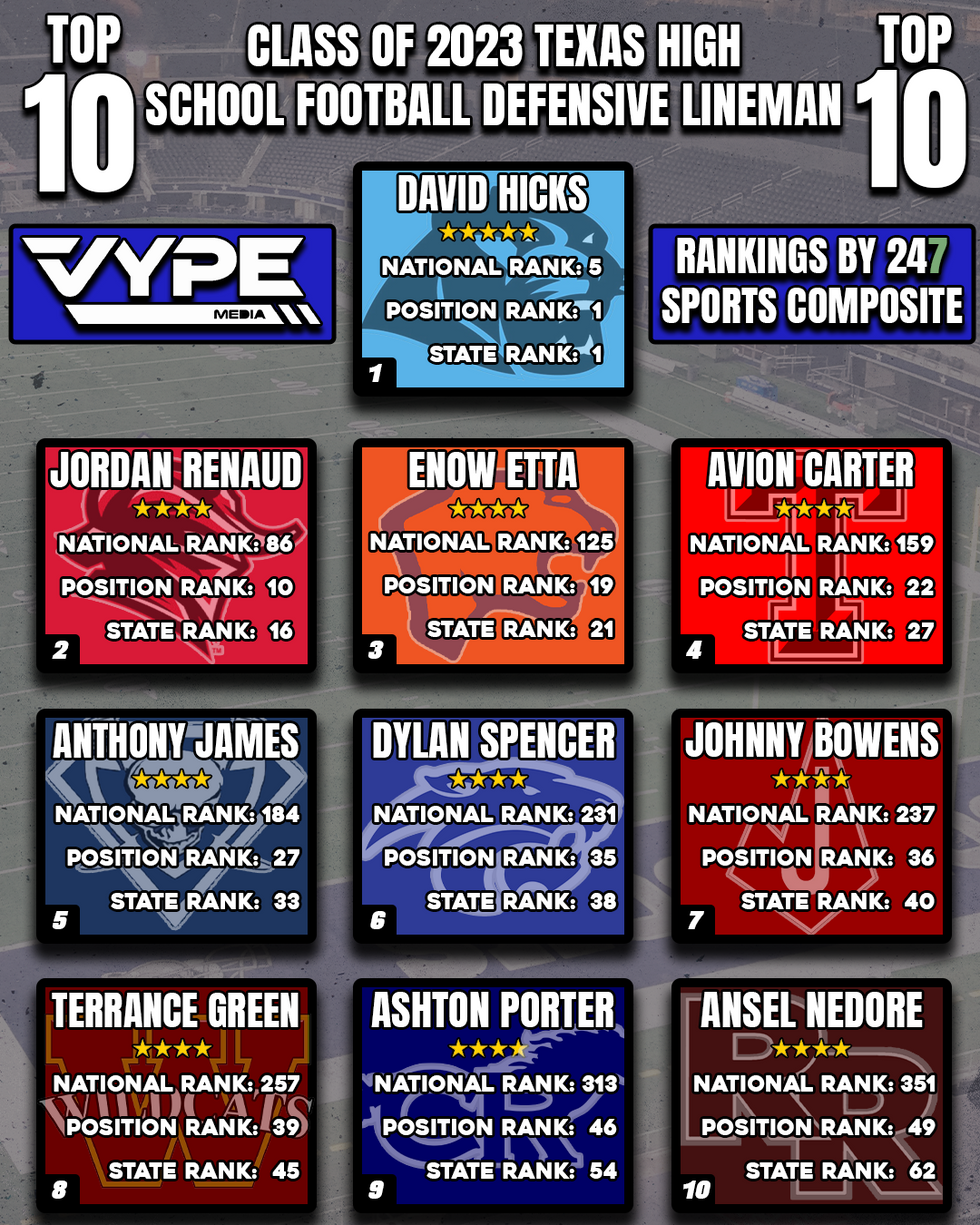 David Hicks- Katy Paetow : The top rated player in the state of Texas has had quite the offseason with a transfer to State Champion Katy Paetow. Paetow will look to utilize Hicks immediately with a move up to 6A and a chance to fully embrace the best Katy school with a game again Katy on the horizon.
Jordan Renaud- Tyler Legacy: With over 20 offers, Renaud will look to have a impactful 2022 season on his way to his college career. The senior has been putting in work in the offseason while leaving his commitment a mystery as of now.
Enow Etta- Covenant Christian: Going in to this article Etta was down to his final 4. However in the process of finishing it Etta decided to drop his commitment to the University of Michigan. The senior had 124 tackles, 22.5 sacks and 2 fumble recoveries during the 2021/22 season.
Avion Carter- Tascosa: The TCU commit accounted for 55 total tackles and 8 sacks in his junior season and will look to guide his team at least 1 round further this season.
Anthony James- Wylie East: The 6'5" 245lb senior goes into his senior season looking to take his team to his next level before continuing his football career at the university of Washington.
Dylan Spencer- C.E. King: The UT commit held a handful of Power 5 offers to include Baylor, LSU and A&M but picked the Longhorns.
Johnny Bowens- Judson: The Judson senior, who recently decommitted from A&M, contributed 36 tackles and 2 sacks in his junior season and will look to have a monster senior season under first year had coach Mark Soto while exploring college options with recent visits to Oregon and receiving an offer from Oklahoma.
Terrance Green- Cy Woods: The senior whose Top 5 are Florida, Texas, Oregon, Michigan State, and Miami, had an impressive Junior season compiling 40 tackles and 5.5 sacks and will look to have another great season while focusing on his commitment.
Ashton Porter- Cy Ranch: The Northwestern commit will hope to build on his teams disappointing end to their 2021 campaign. Porter will be one of the much watch athletes heading into the 2022 season.
Ansel Nedore- Round Rock: The Senior defensive tackle has a driving force for the Dragons 9-2 2021 season before a dissapointing 1st round playoff exit. He will look to be the leader on the defensive front once again in the hopes of a deep playoff run for the dragons.
True