PODCAST: Bass fishing brings out competition in high schools
Jul 15, 2019
Fishing competitively since the seventh grade, Kountze sophomore Cole Trick has established himself as a bona fide force in the sport of fishing. Trick and fellow Kountze teammate Hayden Holland recently placed sixth overall as the "High School Angler of the Year", awarded by the Southeast Texas High School Fishing Association (SETXBA).
SETXBA is a non-profit organization that promotes high school fishing in the Beaumont area. The group also organizes fishing tournaments throughout southeast Texas for high school aged anglers.
The "AOY" standings are tabulated over the course of five fishing tournaments from February to April, split between Sam Rayburn and Toledo Bend Reservoirs. Point systems are based on standings of each tournament and total weight caught, maximum limit of five fish.
Only bass species are eligible for catch, that includes large mouth, small mouth, spotted, and red eye.
Trick and Holland finished the season with a total of 2278.76 points, second in the Beaumont area to Little Cypress-Mauriceville's Spencer Brister and Justin James's 2281.65.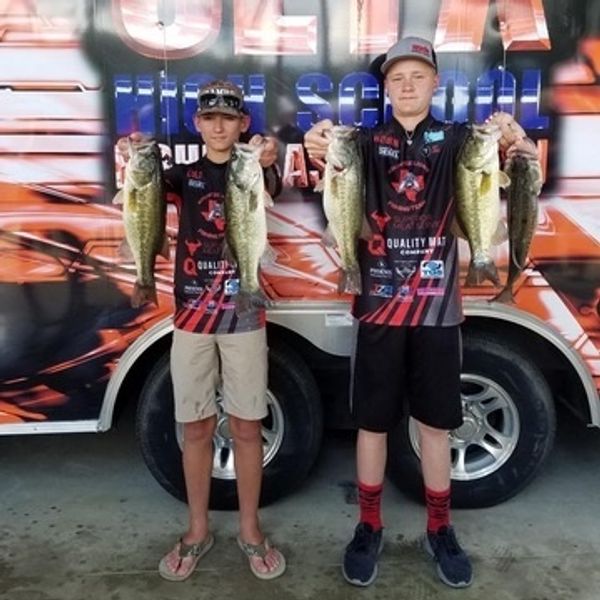 "Cole has been fishing competitively since the seventh grade and has fished in major tournaments outside of SETXBA," said Paul Trick, Cole's dad and the Kountze Fishing Team's administrative advisor.

"As a twelve year old he once placed second against the men. He is someone who studies the sport, does a lot of reading about fishing, studies the lake environment and tries to be as prepared as he can for each tournament."
Just as a football player studies film an angler studies lake conditions, bass movements and, most importantly, where will the fish will be when the horn blows.
"Fishing does a lot for kids," says Trick.
"We had a shy kid at school that kept to himself, we got him involved with fishing and now he's thriving. Fishing is a great way to get kids off the streets," said Trick.
"Its tough to run the streets when you have to get up at 4am the next morning and hit the lake. You have to be committed to the sport."
High school bass fishing has grown to the point where most high schools in the Golden Triangle have organized teams led by a teacher or staff member.
Over 500 teams throughout the Golden Triangle compete in the SETXBA. A bass team typically comprises of two high school aged competitors and a "boat captain" who is either a faculty member of the school or a family member of either participant.
Paul Trick teaches shop construction at Kountze High School.
It's rare, but not unusual, for a team to be comprised of a single "solo" team member that competes against 2-person teams.
A boat captain is still required for solo teams.
The captain usually owns the boat and is responsible for getting the team to the tournaments and helping with registration. Each team member pays dues for registration costs, insurance, and licenses that can run as high as $200.
An added value is females are allowed to compete with the boys and often win.
"Girls are very competitive within the high school ranks", said Trick.
"It was just a few years ago that an all-girls team from Lumberton won the 'Angler of the Year' award. The fish don't care if you're male or female, 8 or 80 years old. If you're good at fishing you will catch fish, it's pretty simple."
Becoming a good angler takes time, effort, and patience.
Becoming a great angler is a lot like any sport. You have to have the will to win, must possess good teamwork, and putting yourself in the right situation.
"You can't overestimate how important it is to spend time on the water," said Trick.
"You're constantly learning things about fish. How they react to things like weather, temperature, vegetation, time of the year, etc. Your memory becomes a great resource over time and experience on the lake goes a long way towards success."
To add to their 2019 success, Cole Trick and Hayden Holland qualified to compete in the Mossy Oak Fishing High School Championships August 8-10. The competition will be at Kentucky Lake in Paris, Tenn., and the team will represent Kountze High School and SETXBA.
For more information on getting involved with an organized high school fishing organization visit the Southeast Texas High School Fishing Association website at SetxHighSchoolFishing.com.